17 December 2012
Two Sheffield ladies who saved their elderly neighbour from a kitchen fire have been recognised by the fire service for their actions.
Marilyn Muir, 61, and Margaret Andrew, 65, saw flames coming from the home of an 80 year-old man on Little Norton Avenue, Norton on 6 August this year.
The pair went inside the smoke-filled flat and found the occupant in the kitchen. Although he initially refused to leave, Marilyn and Margaret managed to lead him outside to safety and then checked the fire was out.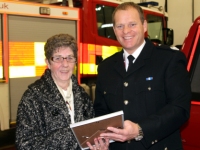 The man was treated at the scene by paramedics but wasn't seriously injured.
The blaze started in a toaster, damaging the work surface and other parts of the kitchen. The occupant had extinguished the fire but was surrounded by smoke when his rescuers arrived.
At a presentation at South Yorkshire Fire & Rescue's (SYFR) Lowedges fire station last week, Marilyn and Margaret were both awarded a Certificate of Appreciation for their actions.
SYFR's Area Manager Phil Shillito said: "Marilyn and Margaret acted very quickly to come to the help of a neighbour who was clearly in danger.
"Although this wasn't a huge blaze there was a large amount of smoke so it was vital that this gentleman was taken outside to safety as quickly as possible."
Marilyn, a retired Post Office worker, said: "It is really nice to be recognised but I think the real heroes are the firefighters who attend incidents like this all year round. I would do the same thing again because I believe helping people is the right thing to do."
Margaret, a former petrol station attendant with Sainsbury's, said: "I've got a great deal of respect for the work all the emergency services do so it is fantastic to receive recognition from the fire service."