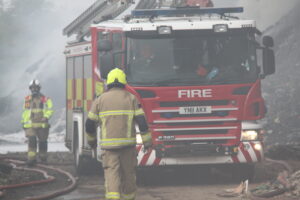 Incident latest (last updated 11 January)
The waste fire at Kiveton Park Industrial Estate has now been extinguished. On behalf of all the operational partners involved, we thank local residents for their understanding while the work took place.
This has been a challenging and long-running incident and all partners remain committed to preventing future flare-ups.
The current site occupier and landowner have been made aware of the requirement for them to ensure waste is removed and safely.
We will continue to monitor the site while waste remains to ensure future activities comply with legislative requirements and any agreed action plans.
Incident summary
This incident has been dealt with via a multi-agency operation comprising South Yorkshire Fire and Rescue, the Environment Agency, Rotherham Metropolitan Borough Council, UK Health Security Agency, the Police and other partner organisations.
EA plant and machinery were brought to site to extinguish the fire on 7 October 2022, and we have worked seven days a week in daylight hours for 13 weeks to fully extinguish the fire. The fire has now been extinguished.
On 1 November the Environment Agency brought in an additional excavator with a longer reach to give greater access to the waste inside the building.
Our priority has been to extinguish the waste fire and to minimise health and environmental impacts, whilst operating in a safe way for the staff working on site in difficult conditions, including a potentially unstable building.
We recognise that this has a significant impact on nearby residents and the wider community, and all agencies involved appreciate the support we have been given.
A single deep-seated fire within the waste escalated to cause multiple fires resulting in smoke impacting the local community.
Part of Kiveton Park Industrial Estate is an abandoned waste site estimated to store up to 35,000 tonnes of waste.
The fire proved difficult to extinguish due to a crust of melted plastic forming over the waste preventing water from reaching the fire, and unsafe structures housing the majority of the waste at the site which restricted access.
We have managed fire water run-off to protect the aquatic environment. The run-off soaked away and entered a combined sewer. We worked with the water company to ensure this did not have any detrimental effects.
We tested nearby watercourses daily. No pollutants from this incident have been detected so far.
We have monitored air quality close to the site. Particulate concentrations at monitoring location have been low and within ambient air quality objectives. We also monitored for asbestos fibres and observed no evidence of airborne fibres.
Next steps
We will continue to work as a South Yorkshire local resilience forum, working collectively to ensure all the waste is removed from site.
We will monitor the site whilst waste remains. South Yorkshire Fire and Rescue will routinely monitor the waste for potential hotspots to prevent future fires.
Rotherham Metropolitan Borough Council and the Environment Agency will monitor the site to ensure that future activities comply with legislative requirements and any agreed action plans.
We have had an initial meeting with the landowner and site management to establish their future intentions for the waste on site and how they intend to manage and remove it. We await their formal plans following this meeting.
We have also written to the landowner to clarify our expectations, their responsibilities and set deadlines for receipt of their proposals.
We continue to investigate historical activities on the site to understand any legislative breaches that may have occurred. We are unable to comment further on the ongoing investigation.
We will be completing a full survey of the site to record the location and volumes of waste as we leave site. This will support the future management of the site and enable us to enforce any expectations for waste management and removal.
We are reviewing our fire incident response plan and will update it with our latest experiences and the work we have delivered to date on site. We will also be requiring the landowner and site management to proactively manage the waste whilst it remains on site.