Public drop-in session – Monday December 5
Following our engagement event on 10 November, a further drop-in session will be held on Monday 5 December from 3.30pm to 6.30pm.
It will be held Kiveton Park & Wales Village Hall in Walesmoor Avenue, S26 5RG. Parking is available in the large car park outside of the hall off the main road through the village, behind Kiveton Park library.
Officers from all the agencies involved in the response to the fire will be in attendance to answer questions and update members of the public.
Thank you for your attendance and feedback from the first meeting.
Incident latest (last updated 28 November)
Work is continuing at Kivet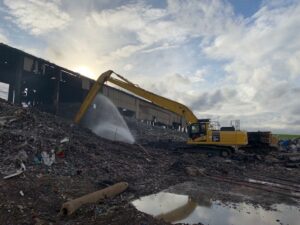 on Park Industrial Estate in Rotherham to extinguish a waste fire and to minimise health and environmental impacts.
A progress summary, including a detailed look at weather conditions and firefighting progress, can be viewed here – Incident Summary Sheet – 28 November 
The incident is being dealt with via a multi-agency operation comprising the South Yorkshire Fire and Rescue, the Environment Agency, Rotherham Metropolitan Borough Council, UK Health Security Agency and the Police.
This work will take some time and we ask local residents to bear with us while the work takes place.
On November 1, the Environment Agency brought in an excavator with a longer reach to give greater access to the waste inside the building. This will allow the Fire Service to tackle the fire.
This work, which started on October 7, is progressing well, but it is challenging due to the nature of the waste and the condition of the building the material is in.
We continue to explore all available options to bring this incident to a close.
The work is continuing to generate steam from the heat, while the on-going fire may create additional smoke.
The Environment Agency has also installed an external air quality monitoring unit close to the site.
Additionally, the Environment Agency is testing nearby watercourses on a daily basis. So far no pollutants from this incident have been detected.
Local residents are asked to keep windows closed, avoid the area if possible and bear with us whilst this work is carried out.
If symptoms occur, people should seek medical advice or call NHS 111.
The waste is made up mostly of baled waste and is stored at an illegal waste site.
The Environment Agency is looking into potential offences at the site and for this reason is unable to comment further on the ongoing investigation.
If local residents have environmental concerns they should contact the Environment Agency 24/7 hotline 0800 807060.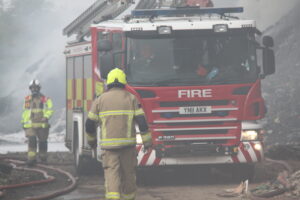 Health advice from UK Health Security Agency
(Update: 17/11/22): Following unforeseen power supply issues, the external air quality monitoring unit is now being moved to a nearby location. Monitoring will resume as soon as possible, likely to be the start of this week (w/c 21 November).
Any smoke can be an irritant and as such, if people need to be outdoors, they are advised to avoid outside areas affected by any smoke or ash, or to limit the time that they spend in them.
Motorists needing to travel through the smoke should keep windows closed, turn off air conditioning and keep their air vents closed.
Residents in areas affected by smoke should stay indoors, keep their doors and windows closed, and follow fire service updates for further advice and information.
Some substances present in smoke can irritate the lining of the air passages, the skin and the eyes.
Respiratory symptoms include coughing and wheezing, breathlessness, sputum (phlegm) production and chest pain.
Chemicals in the smoke can worsen existing health problems like asth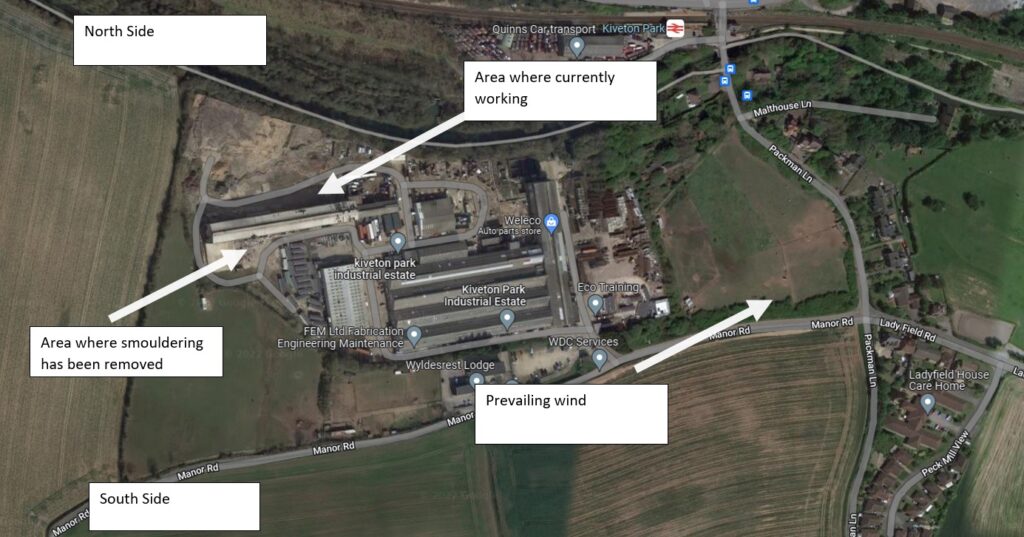 ma. People with asthma should carry their inhaler.
Air Quality Monitoring Update from UK Health Security Agency
Update 17 November: Following unforeseen power supply issues, the external air quality monitoring unit is now being moved to a nearby location. Monitoring will resume as soon as possible, likely to be the start of next week (w/c 21 November)
The Environment Agency has been carrying out air quality monitoring for particulate matter at the site of the fire on Kiveton Park Industrial Estate
Particulate matter is a harmful component of smoke that is indicative of other products of combustion
During upwind periods the monitor shows low levels of particulate matter that are well within health-based ambient air quality objectives
During downwind periods the monitor shows elevated and variable particulate levels, typical of smoke
Weekly weather forecasts will be provided in public updates to help people identify periods when their property may be downwind of the fire
The monitoring to date has confirmed the need for safe working on site; concentrations of particulates decrease substantially with distance from the site
Work to extinguish waste and reduce smoke on-site continues to progress
Particulate concentrations at the monitoring location have been low and well within ambient air quality objectives during the most recent monitoring period between 28th October and 1st November, and on-site monitoring will continue
The monitoring station will be redeployed over the coming weeks to monitor concentrations at a location close to residential properties downwind of the prevailing wind
The responding agencies continue to monitor the situation at the site, trends in particulate levels and calls to the Environment Agency helpline and healthcare providers
There have been no significant increases in calls to responders over the most recent period
Typically we would not expect to see airborne asbestos risks from this type of fire, however as a precaution we are conducting site-specific asbestos monitoring and indicative fibre monitoring in the local area

Seven day rolling impact assessment
Date
Monday
Tuesday
Wednesday
Thursday
Friday
Saturday
Sunday
Weather
Weather Overview
Cloudy with a low chance of rain. Temperatures averaging around 8 degrees. afternoon as rain spreads northeast. Evening into the night: Cloudy, wet and windy at first, however the wind and rain should ease and clearer spells should develop, giving a mix of areas of low cloud, frost and fog.
Overcast. Temperatures averaging around 7 degrees. Small chance of rain in the early morning and late evening.
Overcast. Temperatures averaging around 7 degrees. Small chance of rain during the course of the day.
Overcast. Temperatures averaging around 7 degrees. Small chance of rain during the course of the day.
Overcast. Temperatures averaging around 6 degrees. Small chance of rain during the course of the day with a 20 percent chance around 9am.
Overcast changing to light rain in the afternoon. Temperatures averaging around 6 degrees.
Light rain changing to overcast by late morning. Temperatures averaging around 6 degrees.
Wind direction and strength (direction stated means where it originates- e.g. a southerly wind goes from south to north)
South south-westerly winds during the morning, changing to east north-easterly into the evening.

The morning will see stronger winds, between 5-7mph, with gusts of up to 11mph. The evening will see 2mph winds with gusts not exceeding 5mph.

West north-westerly winds in the morning, turning to south south-easterly into the afternoon and south-easterly in the evening.

Consistent wind speeds of around 2-3mph throughout the day, with dusts of up to 6mph in the evening.

East south-easterly winds in the morning turning to north-easterly in the evening.

Consistent wind speeds of around 3mph during the day, with gusts of up to 7mph expected.

Northerly winds in the morning turn into north-easterly in the daytime and evening.

Consistent wind speeds of between 4-5mph all day, with gusts of up to 10mph going into the afternoon and evening.

East north-easterly winds all day with speeds between 5mph in the morning and 8mph in the evening.

Gusts of 11mph in the morning will get worse as the day goes on, peaking at 16mph in the evening.

North-easterly winds all day with speeds of between 8-9mph.

Strong gusts expected all day. Starting with 18mph in the morning and up to 20mph in the evening.

North-easterly winds in the morning, changing to east north-easterly in the evening, with speeds of around 9mph all day.

Gusts of up to 19mph are expected all day.

Impact
Definitions
• Moderate impact from site operations means smoke may blow towards people in the area nearby. People are advised to minimise any exposure, close doors and windows etc. If anyone does feel unwell, they should contact their GP or NHS 111 for advice, as you would under any other circumstances.
• Low impact from site operations and predicted weather conditions means there should be a low impact on people in the area from any emissions from the site. Residents and visitors should be unaffected by any emissions; if necessary you might wish to take the opportunity to ventilate your property to remove any remaining odours etc.

If local residents have environmental concerns, they should contact the Environment Agency 24/7 hotline: 0800 807060.

North
Moderate
Moderate
Moderate
Moderate
Moderate
Moderate
Moderate
East
Moderate
Moderate
Moderate
Moderate
Moderate
Moderate
Moderate
South
Moderate
Low
Low
Low
Low
Low
Low
West
Low
Low
Low
Low
Low
Low
Low
Progress summary (last 7 days)
• Firefighters have continued to work with Environment Agency colleagues to extinguish piles of waste on the North Side of the site
• Plant machinery, including a long arm excavator, has been used to break apart the waste – with crews then applying water to the fire
• Really good progress has been made during w/c 21 November with all agencies working well together


Planned activity (next 7 days)
• Partners will continue to break up the waste on the North Side and extinguish the deep seated fire
• Once all visible smoke and fire has been extinguished, we will excavate any unburned waste to ensure there are no hidden hot spots