Frozen ponds, reservoirs, lakes and canals can be extremely dangerous.
We know it can be tempting, especially for youngsters, to walk or even play on frozen water – but ice can easily break.
Should this happen, you can find yourself falling into sub-zero water. This can take your breath away and make it hard for you to catch your breath.
You can also get trapped under the ice which can make escaping the water even harder.
Stay safe – stay off the ice!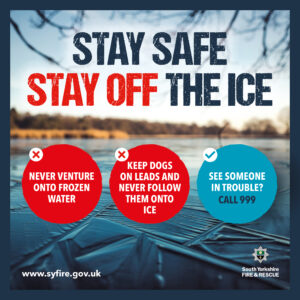 Follow our simple tips to stay safe around frozen water:
Never venture onto frozen water – even if it appears thick, it can melt and crack very quickly
Adults should set a good example by staying off the ice themselves
Don't follow dogs or other animals onto the ice – call 999 and ask for the fire service instead
Don't throw sticks or balls onto the ice for dogs
Stay away from frozen water if you have been drinking
If you see someone in water, do not follow them in – call 999 immediately
If you can, use a rope, branch or clothing tied together to try and help them – but stay clear of the water
If you get into trouble in water yourself, float to live!