We are now offering virtual safety checks for all residents across South Yorkshire.
These take approximately five minutes and can be carried out using any mobile phone – all you have to do is message 'HELLO FIRE SERVICE' to 07862 126663 or scan the QR code below.
As part of the check, we will ask you a series of questions on things such as smoke alarms, kitchen safety and electrics, and offer relevant advice on keeping safe from fire.
If we think you need a proper, in-person visit from our team, based on your answers, we will let you know.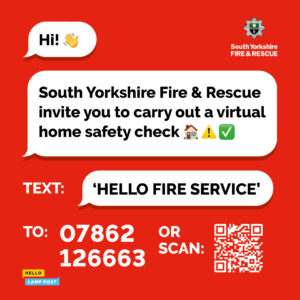 This new system is the first of its kind in the UK and utilises artificial intelligence (AI) technology to run users through a series of questions.
We've developed it in conjunction with Hello Lamp Post, a company that specialises in using AI to support local authorities with their work.
These checks do not replace our in-person Home Safety Checks – where we will visit the homes of people deemed particularly at risk of fire to help make them safer.