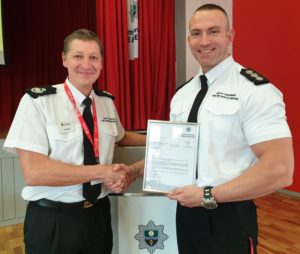 Station Manager Nick Abbott has been recognised for life saving cardio-pulmonary resuscitation (CPR) he delivered to a heart attack victim in Sheffield.
Nick was off-duty and training at a gym in the city before Christmas last year when a man in his 40s went into cardiac arrest.
He delivered CPR until paramedics from Yorkshire Ambulance Service arrived on the scene.
Paramedics said Nick's quick thinking contributed to the man going on to make a full recovery.
Nick was presented with a letter from the Chief Fire Officer thanking him for his efforts.