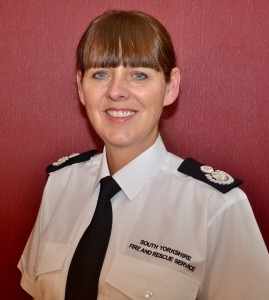 South Yorkshire Fire & Rescue Authority (SYFRA) has appointed a new Assistant Chief Fire Officer following an extensive recruitment process.
Alex Johnson beat off competition from a strong field of candidates to secure the position and brings more than 25 years of fire service experience to the role.
Alex joined Derbyshire Fire & Rescue as a firefighter in 1992, serving at stations across the county during a successful career in which she rose to the rank of Area Manager, leading
the service's prevention, protection and inclusion work. She's also worked at the service's training centre, both as breathing apparatus instructor and Group Manager, and is a fully qualified fire protection officer.
For many years, Alex has been a member of the Executive Committee of Women in the Fire Service, a national network which supports the development of women in the fire sector. She's also previously been the women's representative for the Fire Brigades Union in Derbyshire.
Alex said: "I'm really excited to be joining a metropolitan fire service with a reputation as strong as South Yorkshire's. I look forward to continuing its work in delivering a first class service to the people of South Yorkshire."
Fire Authority Chair, Cllr Linda Burgess, said: "I would like to congratulate Alex on her appointment. The panel was impressed with Alex's experience, achievements in Derbyshire, and her vision for the future of our service here in South Yorkshire."