At South Yorkshire Fire and Rescue we believe the principles of Equality, Diversity and Inclusion (EDI) are at the heart of making our community safer and stronger and we embed them in everything we do.
The South Yorkshire region is rich with diversity and it is made up of many different communities who bring a wide range of skills, cultures and experiences. The EDI agenda helps make the region safer by ensuring we know how to equally support and protect all of the communities that we serve.
It is important to us that our staff are representative of the diversity of the South Yorkshire Region. Diversity amongst our staff brings diversity in thought, creative problem solving, and greater productivity, leading to a safer and stronger South Yorkshire.
Here at South Yorkshire Fire and Rescue we actively try to break the stereotypical view a firefighter and want a career at South Yorkshire Fire and Rescue to be one for all, where everyone is treated with dignity and respect.
As an employer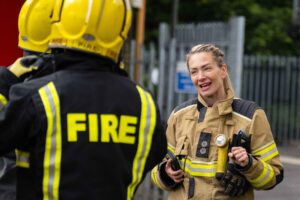 We work to promote equality in relation to all protected characteristics in line with the Equality Act 2010. We value diversity and look to support greater inclusion throughout SYFR. We aim to create a working environment that is safe and secure and where employees can feel valued for being individual.
One way we create change is through our staff groups. These are regular groups where those with a common life experience meet to share knowledge, facilitate change and provide support for one another.
Currently we have the following staff groups:
Disability, Carers and Neurodiversity Staff Group
Faith and Belief Staff Group
LGBT+ Staff Group
Race Staff Group
Womens Staff Group
These groups have led campaigns to challenge stereotypes and to create a more inclusive fire service.
Women of Fire
For International Women's Day, we produced an exhibition to celebrate the work that all women in the fire and rescue service both in South Yorkshire and beyond, do to keep our communities safe.
Click here to check out the dedicated website we developed for this campaign.
Fires don't discriminate, neither do we
This video was made up of comments we received when we changed our profile picture on Facebook to the rainbow flag. We made it to show solidarity with all those we serve and employ.
Here's a link to a video we produced, in which our staff read out some of the comments we'd received. 
Family
To mark Black History Month we produced an exhibition that showcased, and celebrated, the rich and diverse heritage of our staff.
Click here to view the dedicated website we developed for this campaign. 
Positive Action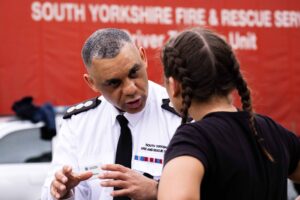 While we have made lots of progress surrounding EDI it's widely recognised by the government and other agencies that there is still much for all fire and rescue services to achieve in this area. One way we are working to become more representative of the diversity of the South Yorkshire region is through Positive Action initiatives.