Recruitment is now closed.
Closing date is Monday 19 June 12noon.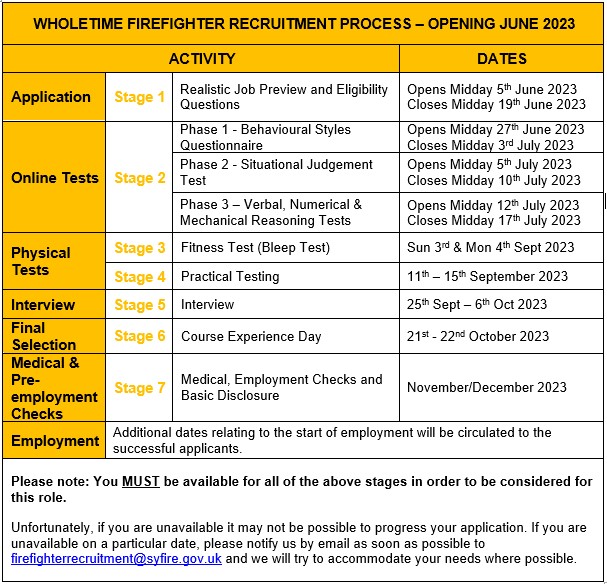 Wholetime recruitment
Our wholetime firefighters are the beating heart of our service – providing fire cover to South Yorkshire across 17 fire stations.
Known more commonly as full-time firefighters, our operational staff are trained to the highest possible standard, ensuring they are ready and able to respond to emergencies across the county.
Yet, whilst we know the image of a firefighter is still that of someone running into burning buildings to rescue people, the role of a firefighter has changed considerably in recent years.
First and foremost, the types of emergencies we attend are more varied – road traffic collisions, people who are trapped, floods and storms, chemical spillages and the growing threat of terrorism are just some of what we are now trained to respond to.
Secondly, our firefighters are now spending more time than ever out in the community delivering fire prevention advice. They visit people's homes and schools on a daily basis, fitting smoke alarms and providing potentially life-saving advice.
This is why it's vital we recruit a wide, diverse range of people for our operational roles – so we can continue to provide a first class service to the people of South Yorkshire.
All our staff, operational or otherwise, are bound by our three core behaviours – honesty, integrity, respect – as they work to deliver our organisational purpose of making South Yorkshire a safer and stronger place.
Within these pages you can find a wealth of information on what a firefighter's role now involves, how you can apply for an operational career with us and how you can give yourself the best chance of landing what we truly believe is the best job in the world.
Anyone can be anything
Firefighter roles within South Yorkshire
South Yorkshire Fire & Rescue has two types of firefighter roles; Wholetime Firefighters and On-Call Firefighters.
Wholetime Firefighter – this is a full time role and for the majority of these firefighters this will be their primary occupation. Wholetime firefighters are required to work days, nights, evenings, weekends and public holidays on one of three duty systems. Details of these duty systems can be found in the Wholetime Firefighter Candidate Information Pack.
On-Call Firefighter – this is a part-time role open to those who live and/or work within 5 minutes of an on-call fire station. With the exception of training sessions and pre-arranged duties, on-call firefighters only attend their fire station when they receive an emergency call out via a pocket alerter. These firefighters often have other occupations but commit to being on-call at certain times when they are able to drop whatever they are doing and get to their fire station within 5 minutes.
Job related tests
Prior to starting your firefighter course, you must pass a series of job related tests. These are all demonstrated and explained in the below videos series:
Getting firefighter fit
So you've applied, and now you need to get ready for the tests and, potentially, your firefighter training course?
Don't worry – we've created these videos to show you what you need to do…
Useful information
Wholetime Firefighter – Candidate Information Pack
Frequently Asked Questions
Salary, Benefits and Career Progression (July 2022)
Online Recruitment – Candidate Information Pack
Exercise, Fitness, and Nutrition Guidance
Behavioural Styles Questionnaire (BSQ) Information
Situational Judgement Test (SJT) Information
Apollo Online Tests – Guide for Participants
Firefighter role map
NFCC Leadership Framework
Equal opportunities
All applications will be given equal consideration and we particularly welcome applications from individuals from ethnic minority backgrounds, women, those who identify as lesbian, gay, bisexual, transgender, or other (LGBT+) or are disabled as these groups are currently underrepresented within our workforce.
Entry requirements
To be considered for the role of a wholetime firefighter in SYFR, you must:
Be eligible to work in the United Kingdom
Be 18 years of age by the time your training course starts
Live within our service boundary (map available in candidate information pack) both at the time of application and at point of entry to the service (your start date of employment with SYFR) – the exception to this is Armed Forces personnel who are currently serving or have served within the last three years (or the immediate family of somebody who serves or has served) – see FAQ documents for further details
Be physically fit to meet the requirements of the role and medical examination
Be able to demonstrate reading, writing and numerical skills to meet the requirements of the role
You must also be committed to maintaining and developing new skills, and studying on top of your normal working days