Our firefighters are called to thousands of deliberate fires each year.
Not only do these waste our time and resources, they put people and property at risk. Even a small grass fire can quickly become something much bigger.
How you can help prevent arson
There are some simple things you can do to help us prevent arson and protect your property:
Take your wheelie bins out on the morning of collection, rather than at night
Don't leave rubbish or other combustible items, such as cardboard, on your front gardens or in plain sight
Be responsible with your litter – don't put it in an already overflowing public bin
Report any suspicious behavior, in the moment, to police on 101
Tell us what you know
Another way you can help stamp out arson is by telling us what you know about deliberate fire-setting in your area.
You can do this via our FireStoppers service which, much like its sister Crimestoppers, is completely anonymous.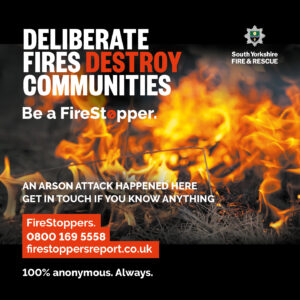 All you need to do is call our dedicated phone number, 0800 169 5558, or fill out our online form – www.firestoppersreport.co.uk.