Considering an on-call role with us? Here's how some of our serving on-call staff feel about their jobs…
Stuart Ogley – Funeral Director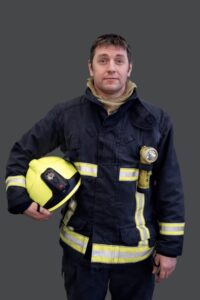 Being an on-call firefighter is a role I take seriously. It makes me feel part of an important team of people who take great pride in their work.
Each day is different, and each call brings a different challenge. Becoming an on-call firefighter although it is rewarding however, keep in mind this is a second job so be prepared to work quite a lot of hours. Shifts are flexible to fit in with most employers.
Career progression in the fire service is varied and available to all. You can develop by gaining your HGV licence and being a blue light driver, to being an incident commander or even working at the Training Development Centre as a trainer. The right role is there for anyone who is willing to work hard and as a team.
The best thing about being an on-call firefighter is working with the public, you are that person they rely on most on their worst days. One day you could be saving a life, the next talking fire safety to vulnerable members of the pubic. No two days are the same. That's what's makes this job so rewarding
Do your research on what it means to be an on-call firefighter. It's tough but rewarding. Don't go into this profession half-heartedly, it is a big commitment on you and your family. You will, however, get out of it what you put in. To me, it's the best job in the world.
Helene Rooke – Healthcare Assistant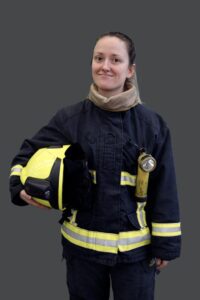 I wanted to become an on-call firefighter because I wanted to help people and I have a caring nature. I have always had an interest in becoming a firefighter, but I always believed that I wasn't going to be strong enough. However, when I saw recruitment open up, I set my mind to it. It was all that I wanted.
You are regularly assessed and need to maintain competence within the role so my advice would be to never stop learning and to openly communicate so everyone can learn from shared experiences. Sometimes incidents themselves can be challenging and it is a real test of character and determination.
The training is great. It can be arduous and challenging but it is also extremely interesting and inciteful. I enjoyed my time at training school immensely and look forward to refresher courses.
There are various different training courses to attend and different aspects of the job to get involved in. I have recently joined the Community Safety Partnership. Others at my station are going through the process of becoming drivers completing their HGV and Fire Service Emergency Fire Appliance Driver training and 2 more are going through the promotional process to Crew Manager.
I am proud to be an on-call firefighter. I have so much love for the job. I think that after every incident where you know you have made a difference or have helped someone, there is a real sense of achievement.
Robert Green – Fitness Instructor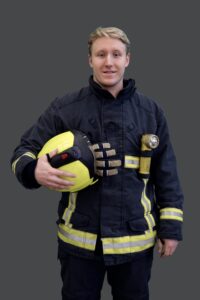 I wanted to become an on-call fire fighter because I know about all the good you can do in the community and also the camaraderie of the workforce and that has always been important for me in the workplace.
To become an on-call fire fighter you have to get through the recruitment process which involves some problem solving with Maths and English. There are loads of areas and opportunities for development throughout the job. You can naturally progress up the ranks at your station by completing your gateways.
There are obviously a lot of challengers in the role of a firefighter. A big challenge is that you will face some very mentally challenging situations. Another challenge is in the early stages of becoming a competent firefighter you have loads of new information and new skills to learn and develop in a relatively short period of time. The best way to overcome this is to ask for the help and clarification whenever you need it.
If you are wanting to be an on-call firefighter you should brush up on your basic Maths and English and interview skills, then I would urge you to give it everything you can as you will get out what you put in and I promise you won't regret it.
Andrew Moxon – Insurance Consultant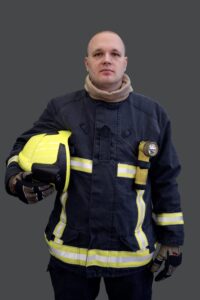 I always wanted to be a firefighter from a young age. Poor eyesight prevented this, but I've since had laser eye surgery. A chance encounter with an on-call firefighter and I was down at my local station soon after, finding out more.
There are lots of development opportunities and skills that are transferable. I've been trained to deliver casualty care to a standard much greater than usual first aid. I'm also about to get LGV training so I can drive the larger fire service vehicles when required.
The application process involves several stages to check physical fitness, some personality traits and other maths and reasoning tests.
Training builds up gradually as you gain experience too. You'll likely do around 8 hours a week of drill, e-learning and fitness, with key courses on top of this. I have to plan my week carefully to make sure I get all my work done, stay fit and get some family time. I try to do as much as I can once my children are in bed.
Don't take the decision to join lightly. Make sure you talk it over with anyone who might be affected. Other than that, I'd highly recommend it. It comes with a great sense of purpose.